Temperature monitoring ensures cold supply chain compliance
The tracking solution enhances logistic quality control that enables you to quickly identify and manage issues that effect your cargo and equipment. It gives you continuous visibility and information about the temperature condition of the entire supply chain.
Temperature conditions of products must be kept within a certain range to comply with standard rules in shipping in regard to food, medical and electronic components.
Trusted tracking devices contains a built-in temperature sensor that records temperature data during transport and storage.
The tracking device transmits the temperature data, time and location to cloud-based software which provides you with automated compliance reports and alerts you if temperature limits are exceeded.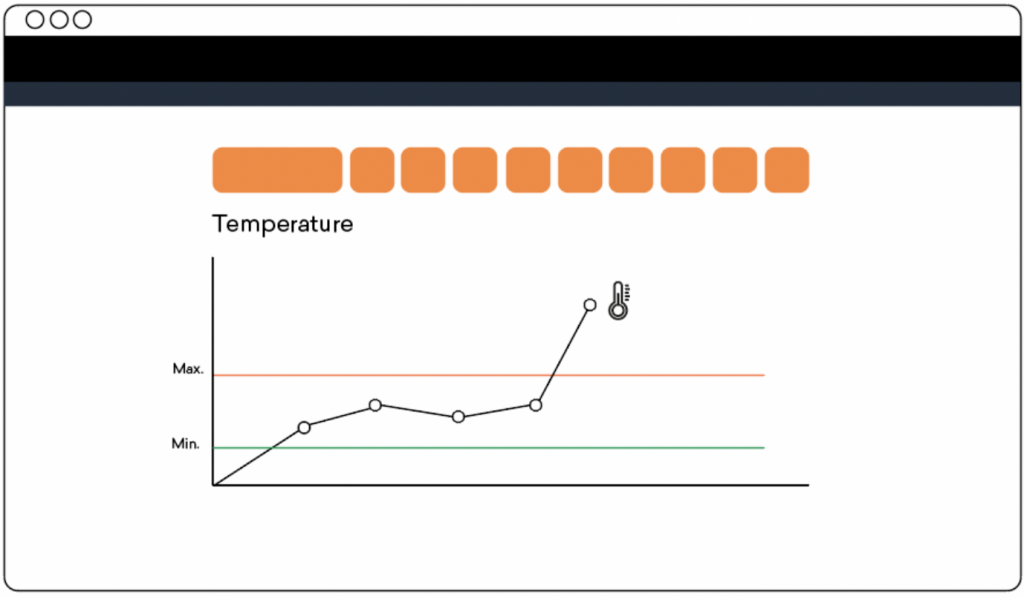 Ensure freshness and reduce food waste
The tracking device is used for cold chain monitoring of food during transport and storage to ensure freshness, reduce waste. Provide a compliance report to document the general requires for quality control.
The tracking device gives you an alert when the temperature change. This enables you to react immediately and identify issues that affect the cargo. This possibly minimizes the risk of losing and redeliver products.
For example, if a trailer is disconnected, a manager can immediately contact the driver, so he can stop to instantly reconnect the trailer and inspect the content.
Temperature sensor used in the medical and pharmaceutical industry
The temperature sensor is intended for monitoring medicine, vaccines, blood, and other temperature-sensitive products. It is significant that the medical and pharmaceutical industry deliver carefully the product in the right condition on time. The Trusted data logger solution helps the industry to ensure regulatory compliance and prevent refrigerator failures and product spoilage.
Cold chain monitoring improves delivery quality and customer satisfaction
It is crucial for food and pharmaceutical industries to ensure timely delivery and correct temperature condition during production, storage, and transport.
Read more about a temperature-controlled supply chain here