Cold chain monitoring with IoT guarantees delivery quality and improves customer satisfaction
Monitor temperature in cold chain transport from dispatch to delivery
It is crucial for the food and pharmaceutical industries that their transports are timely delivered and handled with the correct temperature conditions during storage and transport.
The Trusted monitoring solution helps you stay in control throughout cold chain transport as advanced sensors log the temperature and position throughout the transport.
Solving the two major issues of cold chain transport
As you might know, it is very costly for companies to redeliver if products are wasted because of temperature breaches. Also, it is hard to prove who is responsible and liable for mistakes when cargo arrives in an unacceptable condition at the final customer.
The Trusted cold chain monitoring solution aims to make these two challenges a thing of the past.
Firstly, our tracking devices help you secure correct delivery quality by logging temperature and humidity. The device will alert you if preconfigured limits are breached, enabling you to act immediately to prevent damage. This will reduce waste and save you money instantly.
Secondly, a Trusted solution provides location-based insights on time of incidences, unlike temperature stickers and other solutions. By knowing where any damages have occurred, you can prove who is liable for the damages to your cargo.
Furthermore, if managers are able to keep record of the conditions and location during the transportation process, this secures compliance in the supply chain towards all interests in the delivery process.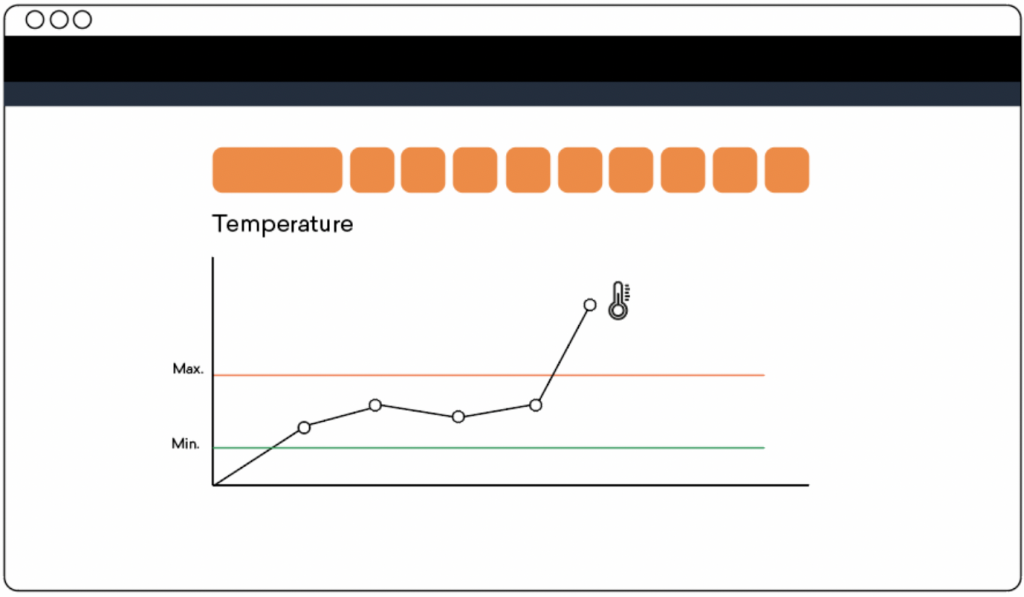 How cold chain monitoring works with Trusted tracking devices and data loggers
Advanced IoT technology will drive the efficiency throughout your supply chain.
An RHT sensor tag measures relative humidity and temperature data. The RHT sensor communicates with our IoT device which automatically collects and sends data to our comprehensive cloud-based platform, Trusted Visibility Suite. Here the data is analyzed.
In case of any of thresholds data from your transport exceeding thresholds defined for your delivery, the system automatically sends out an alert to the users. This enables cold chain managers to react immediately and fix the problem and possibly minimize the risk of losing the products.
For example, if a trailer is disconnected, it enables the manager to contact the driver immediately, so he can stop and check the temperature of the container.
At any time, you can get full visibility of your transport on the Trusted Visibility Suite. Here you can log in to see the location, performance and the conditions of food, medicine, and other cold chain equipment.
Tracking can grow your business supply chain
The Trusted cold chain monitoring solution helps businesses to streamline processes in the supply chain and enhance decision making. This, we dare say, will help you achieve a temperature-controlled supply chain that gains operational efficiency and improves quality control.
The system can generate a proof temperature data for documentation use. Documentation and quick notification to customers about delays and damage to cargo can lead to increased customer satisfaction.
So, take advantage of the following benefits:
Ensure timely delivery of food products over large distances
Insights of challenges before they occur
Alerts when temperature changes
Temperature data for documentation
Customers are getting a data set to prove compliance in the delivery
Learn more about Trusted IoT sensors and software. And please do not hesitate to contact us for further information.
Looking for a tracking solution?
Do you want more info on our case stories or want to hear if a Trusted solution could help your cold chain management line?
Please give me a call today or book a meeting.